Have you ever keyed in 'horses for sale near me' into a search engine? The chances are you have done something similar – and it's no surprise.
The pandemic has caused an interesting change in search engine behaviour. Because we are locked down it feels as though our world has been restricted. This has changed our view on where we buy things ­– from takeaway food and household essentials to luxury items including, of course, horses.
A change in how we buy horses… and more
While buying and selling horses has become very difficult during Coronavirus – and many stable yards have closed their doors to owners let along viewings – any tentative steps to buy are horse are at a local level.
We may see a change in buying patterns when this is all over too. The idea of buying local now resonates with people, and a sense of community is palpable. On social channels like Facebook and Twitter we can see hashtags like #inittogether dominate, as communities offer greater levels of support. Many see viruses like this as a foreign cause, too, and feel they want to buy British or buy local.

Back in 2018 Google reported a growth in "near me" searches. In fact as the image shows there was huge growth back in 2017 – some suggesting it is up 500% in the past few years.  In America the search phrase "restaurants near me" is in the top 100 searches of 2020, and has been the most popular 'near me' search for 5 years. Google said in April 2020 that "grocery delivery service near me" as a search term went up 200% globally.
It is worrying for the world when searches like "food shelters near me" have seen 5,000% growth in countries like India.
Will a search like "horses for sale near me" work?
It's curious that we feel as though writing "near me" will convince a search engine to display results that really are near you, when algorithms will almost certainly do this anyway. Hoofing over our stats, Horsefinder has seen growth in the search 'horses for sale near me' of nearly 30% since the start of April. That means 10% of the people who visit us use that search term.
Google, for example, should show results near you by understanding those keywords as an instruction. It will tend to use the Google My Business section of its database, and if a company doesn't have one of these then it may not actually show up.
When, here at Horsefinder HQ, we keyed in 'horses for sale near me" we got 53,900 results in Google, but we have to say that the first page of results showed nothing near us at all. I guess that's why a search on Horsefinder using our location tools – such as by town or by county – may deliver better results more quickly.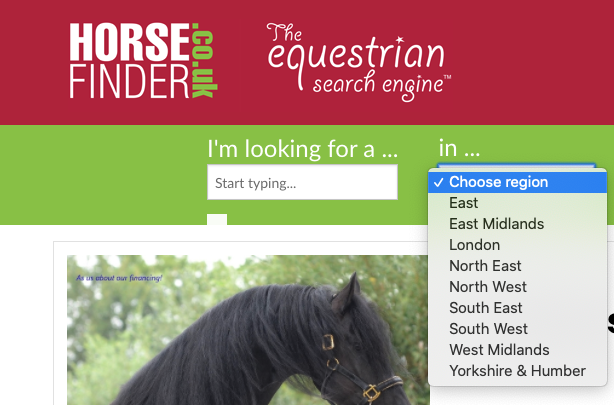 In conclusion, it's a small world, and perhaps it's about to get smaller after this pandemic. One thing is for sure, wherever you find a horse, love every second of ownership – because we don't know what's round the corner.
Relevant Horsefinder articles
Top 4 tasks for a spring clean at your stable
Find a horse, yes. But find the unicorn and win!