Horsefinder caught up with Devon-based Katie Chamberlain, a director of a medical company, to find out about her lifelong love of horses and her experience of eventing.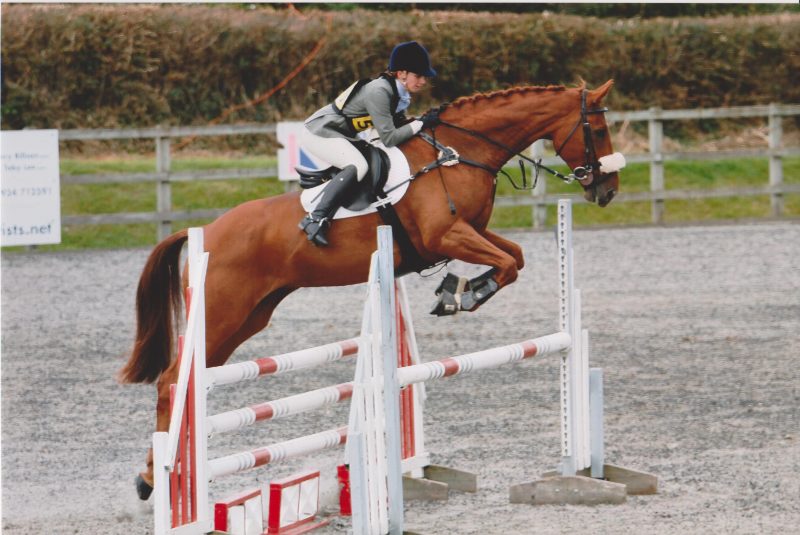 When did your passion for horses start?
I got my first pony when I was two. He was called Candy and my brother and I shared him. I later joined the local Pony Club when I was eight.
Tell us about your current horse?
Star is a nine year old chestnut mare, 17.1hh, 7/8 thoroughbred, by Devils Jump out of a Skippy mare.
She is very laid back to handle but is quite sensitive to ride.
How has the bad weather affected your daily routine in looking after your horse?
The wet weather has meant that she hasn't had as much turnout in the field as she normally would but the longest she has had to stay in is one week. Fortunately there is an indoor school at the yard where I keep her, so I am able to ride her every day.
So do you still head out every morning?
Yes, she is stabled at night throughout the year anyway so I always have to get up early to muck out before work.
When did you first get into eventing and how nervous were you on your first outing?
I was introduced to eventing when I was a member of the Pony Club, probably about 12 years old.
At that age I don't think that I did get very nervous, it was all just good fun.
What do you enjoy about it?
I enjoy the challenge and the sense of achievement when it all goes well. Knowing that you've worked hard for it and that there's always something that can be improved is a real motivator. The environment is also very sociable and I like going with friends and being able to take my dogs with me.
What have been the highs and lows so far?
I've not had any particularly outstanding results but I'm generally just pleased to get around in one piece! Real lows have been breaking my tib and fib twice 10 years apart.
What is the next event you will participate in?
The first British Eventing event of this season is at Moreton in Dorset on the 2nd March; I'm entered into the BE100 and hope to move up to Novice at the end of March.
How will you train for that?
I've been to a couple of unaffiliated dressage competitions and some show jumping over the last few weeks.  I was planning to go cross country schooling in the next week but this is not looking too promising as the courses near me are still closed due to the wet ground conditions.
Do you have any advice to those thinking of getting into eventing?
Save up your pennies because it's not cheap; keep practicing; listen to advice and don't be too disappointed when things don't go to plan as there is always the next event.