It's the season for flies and no one likes to set off on a hack with a swarm in tow! It's hard enough looking at our horse in her field, covered in flies. The good news is that Brinicombe Equine has developed a fly spray for horses that is not only 100% natural, but really effective. We've hunted high a low for such a product, so here's our review of Think Fly Spray – one we think works really well.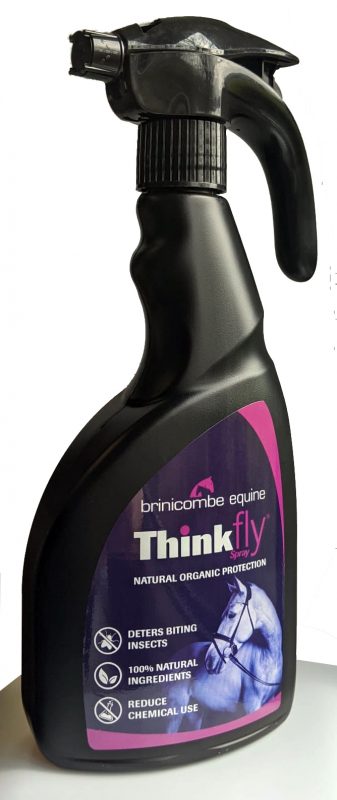 What is Think Fly Spray for horses?
Brinicombe is a Devon-based nutritional equine specialist. They say Think Fly Spray "takes a scientific approach to deterring flies and other parasites". It's a natural, organic spray, and part of their successful range of Think products for horse owners and breeders.
What do we like about it?
Firstly, at Horsefinder we REALLY don't like chemicals, and this product is organic and natural. That means it's kind and safe for horses, their riders and for the environment – and perfect for horses with sweetitch or sensitive skin.
Secondly it is backed by science. They've captured and stabilised polysulphides within garlic as the key effective ingredient. We've looked at this, and as well as being a patented technology, Brinicombe has been using this in its feeds for more than 10 years. So it's tried, tested and above all safe. (Look at their Think Itch feed for a supplement that sits nicely alongside Think Fly Spray and Think Fly granules).
Thirdly, it's a smart bottle! The way the handle and trigger are located you don't get drips down your hands. So you can spray and go!
Finally, it smells quite nice! We're not really sure what it smells like. Some of us think mild barbecue, and others roasted garlic. But whatever it is, it's a pleasant odour, with no chemical pong that we're used to.
It seems to last too, which may indicate that the product keeps working even when your hack is over, to keep your horse fly-free.
Does Think Fly Spray work?
We noticed its effectiveness over a period of several hours, which means it was keeping the flies away after just one application. That's money-saving too, because you can economise on its use. A quick spray first thing and your horse is set for the day, which is great if you have a stable close to water and flies are a daily problem.
Brinicombe claims that 97% of users were satisfied with the product, and 91% thought Think Fly Spray was 'much better' or 'better' than other fly sprays. We can't really fault it, and it is certainly effective. They also claim it deters lice and parasites like ticks, which we can't corroborate but that's a bonus from a fly repellent.
The online reviews of this product are quite gushing, too, especially from owners who have issues with sensitive skin, sweetitch and so on.
So… Think Fly Spray certainly worked for us, and seems to work for others. At £16.95 it's not that expensive and worth a trial if you have got disillusioned with other sprays that don't work that well.
Think Fly Spray is available online from Brinicombe Equine. Look out for bundles with their other products to save a few pounds.
Relevant Horsefinder articles
Find a horse, yes. But find the unicorn and win!