It has been a yar of handwashing and social distancing, with most stables fortunately open to owners and riders. As the COVID-19 restrictions start to be eased in the UK, one of your forms of anti-lockdown exercise may be a visit to the stables. Riding is a great all-round workout – but so is grabbing a broom and wheelbarrow and getting stuck in to the stable! That's especially the case if you've been unable to get to see your horse as often as you may have liked.
Make the most of one of these mild sunny days and give your stables a good spring clean-out. Clean stables = healthier living accommodation for your horse.
If you're thinking of advertising your horse for sale, then it is important that your stable looks clean and tidy. This not only reflects well on you as the seller, but on your horse's health and wellbeing.
Clear away debris  
Choose a bright and breezy day. Start with a good brushing to remove cobwebs and dust – which are a fire hazard – and debris in corridors and doorways, as well as inside the stable itself. While your horse is turned out, clean right down to the floor. When sweeping out aisles, put the straw, dust and manure in your wheelbarrow to dispose of properly on the muck heap, rather than just sweeping it through the door. It often holds more moisture and can make entrances messy and muddy in wet weather.
How to disinfect your stalls
Mats should be removed, disinfected and allowed to dry. Power washing the walls and floor together with scrubbing in stubborn areas can be a good way to dislodge grain, straw and other trapped dirt. Use a non-toxic eco-friendly cleanser which will kill bacteria such as  Barrier Equine V1 or EndoQuat™.  Power-washers can allow pathogens to become airborne under the high pressure of the water. Alternatively, use a garden hose to wet the walls and floors.
Top tip: Scrub 30 minutes later with a mixture of baking soda and vinegar, then rinse.  Don't forget to clear out your gutters and install wire covers to limit build-up if necessary.
Assess and treat the floor and walls
If you have a dirt floor you may need to remove the top layer and build it back up with fresh soil. If you have drainage problems, now is the time to get a builder in to diagnose and correct any issues with the way the floors slope. Your wooden stable walls might need a coat of varnish. Be sure to keep horses out when it's drying and to allow adequate ventilation, as wet varnish is highly flammable.
Spring clean all your equipment, tack and feed rooms
Go over your tack and other equipment, such as brushes. Scrub out your buckets and feed containers. Clear out old feed bags and baler twine and vacuum your tack room, plus the inside of cupboards and drawers. Clean the sink. Don't forget to wash windows, update all your emergency numbers and check wiring to see that rodents haven't damaged it. Sweep out the place where you store your hay, and mist to keep dust down. Send your horse blankets to the cleaners and store them individually in large plastic bags.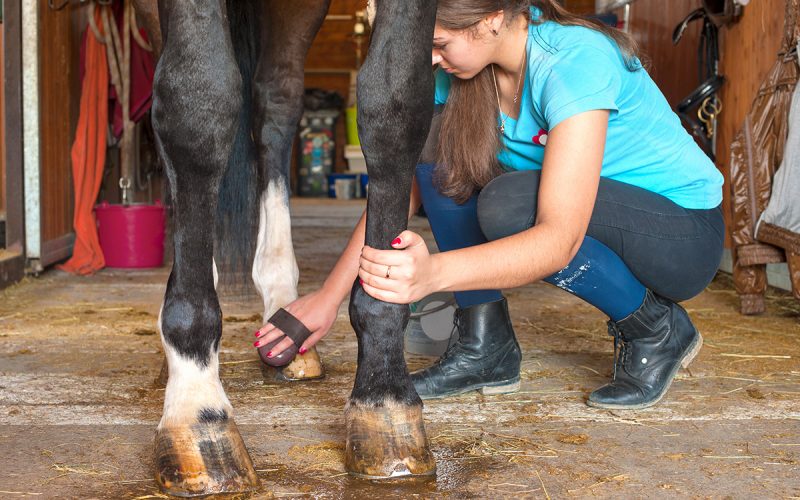 Then make the most of this (rare) lovely weather by spending quality time with your horse when you can. But remember – whether you stay alert or stay home, stay safe.
Relevant Horsefinder articles
"Horses for sale near me". Is this search the new normal?
Just purchased: our 3rd fly rug of the season!